Lost Fillings, Crown or Inlay/Onlay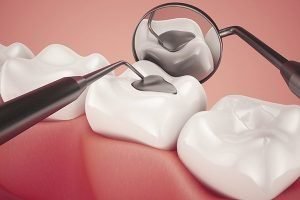 Tooth fillings, dental crowns, and inlays and onlays are dental restorations that restore your teeth's function and beauty.
They stop dental problems from worsening, protecting you from further damage.
They are made of durable materials and can effectively participate in your teeth's day-to-day functions.
However, despite their durability, these dental restorations can be damaged. We at Ria Family Dental consider such damage a dental emergency because of its consequences, inconvenience among others.
For lost or damaged fillings, crowns, or inlay/onlay, Ria Family Dental is the one to trust. We have same-day emergency appointments for your dental emergency.
Common Reasons for Damage
Natural deterioration
All dental restorations have a breaking point. Over the years, their everyday participation in your teeth's day-to-day activities can cause them to weaken and break down.
Abuse
Your dental restorations may be durable, but that does not mean that you can abuse them. Using your teeth as tools outside their natural functions, for instance, can cause damage.
Tooth decay
Tooth decay is the most common reason for getting a dental restoration. During treatment, all decayed parts are removed. Poor oral hygiene can cause secondary cavities to develop weakening your tooth until it cannot hold existing restorations.
Poor dental work
Poorly made dental restorations greatly affect the durability of your dental restorations.
First Aid Steps
In case of a damaged dental restoration, here's what you can do:
Remove all broken parts left in your mouth. This is very important to avoid breathing them in and causing an infection.
Take OTC pain relievers or apply clove oil on the affected tooth to reduce pain and sensitivity.
Go to your dentist Yeronga immediately.
Replacing a Damaged Dental Restoration
To ensure that there is no danger, an X-ray may be performed. This is to check if there are pieces of a broken dental restoration in your lungs.
Sometimes the damage is minor and the dental restoration can be reattached. In other cases, the dental restoration will have to be replaced entirely.
Lost Fillings, Crown or Inlay/Onlay in Yeronga
If you or your loved ones have a dental emergency, you can count on your trusted Ria Family Dental dentist. We have a same-day dental emergency appointment to relieve you of your pain as soon as possible.
Lost Fillings, Crown or Inlay/Onlay in Yeronga
#1. Book online now

#2. Call 0451 359 356
#3. Visit us at 451 Fairfield Rd in Yeronga