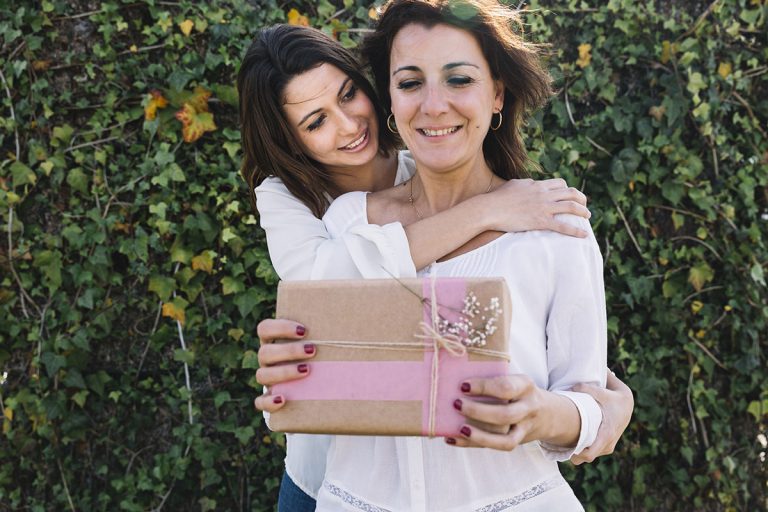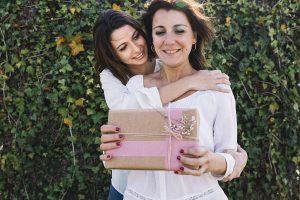 The older you get, the more difficult it can be to find the right Mother's Day gift.
While handmade gifts and finger-painted art may have done the trick when you were a kid, you may be looking for something a little bit more adult this year.
A grownup Mother's Day gift doesn't have to be stuffy, dull, or predictable. It can be surprising, affordable, and practical!
What does that mean? At Ria Family Dental, we're suggesting you get your Mom the gift of oral health!
Here are some great Mother's Day gifts that all have a dental theme!
#1 Teeth Whitening for Mother's Day!
As we age, and this goes for Moms too, teeth can become discoloured or stained for a variety of reasons.
Teeth may become darker due to pigment build-up within the tooth.
Drinking tea, coffee and red wine, eating curries and smoking can all stain teeth.
And a dingy smile can harm personal, romantic, and work relationships. So why not get your Mom a teeth whitening treatment from Ria Family Dental?
Our teeth whitening treatment has a gentle, supervised take-home approach.
We build personalised trays, note current tooth colour, and give instructions on how to whiten Mom's teeth.
Mom takes the trays and whitening agent home to use over a 10-day period.
Benefits of Teeth Whitening
Improves confidence and self-worth
Enhances the ability to connect and communicate with other people
Creates a more positive mood and disposition in life
Motivates Mom to keep up the health of her teeth
Improves Mom's physical and emotional wellbeing
White teeth are a perfect gift for your Mom – Currently, Ria Family Dental is offering a promotion on our take-home whitening kit.
Our $250 take-home kit consists of 3 tubes of Zoom bleaching gel, upper and lower trays and container of tooth mousse!
More about teeth whitening at Ria Family Dental
#2 Electronic Toothbrush
Not only do electric toothbrushes keep your Mom's teeth clean with less effort, but they bring your Mom other benefits, as well:
It keeps her mind and heart in good shape. Plaque can cause gum disease and inflammation.
This infection can slowly damage the blood vessels in the heart and brain and has been associated with health problems including diabetes, stroke, heart disease and dementia.
It's excellent if Mom has arthritis. Manual toothbrushes can be difficult and painful if your Mom has arthritis or mobility problems in the hands or arms.
Electric toothbrushes have thicker, rounded handles that are easier to hold, while the brush does all the hard work!
It enables Mom to brush longer. Dentists Yeronga recommend continuous brushing for two minutes. Electric toothbrushes take away the guesswork, thanks to their built-in timers.
Most alert you at 30-second intervals, signifying when to move to a different quadrant of the mouth.
It can relieve sensitivity. Many of us scrub too vigorously, which can remove our tooth enamel.
With an electric toothbrush the rotating, pulsating bristles do the hard work, making it difficult to apply more pressure than you need.
It reduces one-sided brushing. Almost all of us have dominant hands that we brush with, and this means we brush the other side of our mouths with more pressure.
Electric toothbrushes apply equal pressure to all parts of your mouth.
#3 A DIY mouthwash holder
Many Moms like the thoughtfulness and handiwork involved in do-it-yourself gifts – remember those macaroni Christmas trees you used to make?
You can be as creative as you want and support your Mom's dental health with a DIY mouthwash dispenser. The options here are endless, as a Google search will show.
Mouthwash holders can be made from jars of any kind, or fill her favourite drink bottle with her preferred mouthwash. A quick search in Pinterest will reveal dozens of smart ways to make DIY liquid holders!
#4 Travelling dental kit
This is an excellent gift for a Mom who spends a lot of time travelling. You can buy this over-the-counter, or create a personalised version. A good dental kit should contain:
Toothpaste in a plastic bag or another sealed container.
Toothbrushes.
Mouthwash and floss.
Individual items. Various things your Mom needs – items such as floss-threaders, denture-cleaning fluids, or mouthguards.
Ria Family Dental's phone number: Your Mom should have our phone number at hand for unexpected situations.
If a full kit is too large and clunky, at least get a folding toothbrush that can be folded down to half its original size and tossed into a purse or glove compartment.
Join the Ria Family Dental!
At Ria Family Dental, we offer comprehensive care addressing both your short and long-term dental care needs.
We have an honest, judgment-free environment in which we practice convenient, comfortable, and conservative care designed to maximise your smile and oral health!
Our offices are at 451 Fairfield Rd, with Yeronga station and bus stops nearby, as well as convenient storefront parking. For patient convenience, we offer early evening hours on most weeknights.
Yeronga dentist also serves the local communities in Yeerongpilly, Annerley, Tarragindi, Rocklea, Fairfield, Tennyson, Graceville, Chelmer and Moorooka.
Our Teeth Whitening Promotions
Take-home kit consist of 3 tubes of zoom bleaching gel, upper and lower treys and tube of tooth mousse for only $250
Call us on (07) 3892 1331 or use our online booking service here!
We are located at 451 Fairfield Rd in Yeronga.