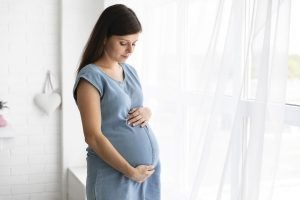 "Is it safe for my child if I get dental treatments?" "What about X-rays?" "If I'm breastfeeding a child, I should stay away from dental medications, right?"
At Ria Family Dental, we've answered these questions, and many more, from women wondering whether dental care is safe during pregnancy and nursing. And we have only one, very brief answer – "Yes. It's safe!"
Normal dental care is very low risk, and a surprising number of other procedures can be performed as well.
And such treatment is good for both of you – good dental health supports your overall health and increases the chances of a happy outcome for your pregnancy.
When you schedule your visit to Ria Family Dental, it's important to tell us if you are pregnant, trying to be pregnant, or breastfeeding a child.
If we know, we can work with you to make the best decisions possible for you and your child. For instance, we would normally put off any elective treatments until after delivery.
Let's take a closer look at dental treatments for pregnant or nursing.
Dental risks during pregnancy and nursing
Tooth decay and gingivitis are the common dental issues associated with pregnancy and nursing. If morning sickness causes vomiting, the level of acid in your mouth rises, increasing the risk for tooth decay.
This increased acid can reach your baby, increasing their risk of premature birth and low birth weight. Severe tooth decay can lead to cavities and tooth loss.
During pregnancy, the level of the hormone progesterone increases. This creates more acid in the mouth that can lead to gingivitis. The best answer to this is a good checkup and cleaning!
The second trimester is the best for routine procedures. By the second semester, fetal organ development is complete.
For the mom, feelings of nausea and the chance of vomiting may be reduced, and most women should still be comfortable reclining in the dental chair.
Major dental surgeries and elective treatments and should be postponed until after pregnancy.
Nursing moms lose up to 5 per cent of their bone mass as their children use more calcium. This can cause periodontal disease or gingivitis, which can damage the gums and cause bone loss of the jaw.
To prevent this, it's essential to maintain a healthy diet throughout your time breastfeeding, including lots of calcium and vitamin D.
Bruxism. Many pregnant and new mothers grind their teeth, which can damage teeth, harm the jaw, lead to TMJ, and cause stress that can be communicated to an embryo or child.
Treatment during pregnancy
Here are some things to consider during pregnancy.
The danger of not treating issues outweighs the small risks of dental work while pregnant. Some medications, including local pain medications, antibiotics, and anaesthetics, can be safely used during pregnancy.
The second trimester is the optimal time for routine dental procedures. Fetal organs have developed, the risk of nausea and vomiting is decreased, and most women can still sit comfortably in a dental chair.
Avoid X-rays if possible. If you've been to your dentist regularly, you most likely don't need new X-rays until after your child is born.
In case of emergency X-rays, we will use a lead apron and collar to minimise exposure to your abdomen area and thyroid.
Create comfort. As pregnancy goes on, reclining on a dental chair can become uncomfortable.
If so, bring a pillow and some headphones with your favourite music. Be sure to take breaks, and break larger treatments into smaller ones, where possible.
Dental Treatment and Breastfeeding
A nursing mother can have almost any dental treatment other than whitening. Your dentist will use anaesthetics that do not affect breast milk and are safe for your child.
Dental Medications and Breastfeeding
If you are breastfeeding, make sure your dentist knows. Here are some medications that are known be generally safe.
X-rays are safe
Novocaine (and several other anaesthetics) are considered safe.
Some antibiotics are safe. Your dentist will recommend which ones.
Nitrous oxide (laughing gas) is considered safe as the gas is insoluble in the bloodstream.
Most medications for IV sedation and oral sedation are safe.
If you do need to take medication while nursing, check with your dentist, physician, and paediatrician to make sure the drug is safe.
Your dental health is important, but the health of your child is even more important, and such consultation can also give you peace of mind.
Join the Ria Family Dental!
At Ria Family Dental in Yeronga, we offer comprehensive care that addresses your short and long-term dental care needs.
We provide an honest, judgment-free environment in which we practice convenient, comfortable, and conservative care designed to maximise your smile and oral health!
We are located at 1/451B Fairfield Rd, with Yeronga station and bus stops nearby, as well as convenient store-front parking. For the convenience of our patients, we offer early evening hours on most weeknights.
Yeronga dentist also serves the local communities in Yeerongpilly, Annerley, Tarragindi, Rocklea, Fairfield, Tennyson, Graceville, Chelmer and Moorooka.
Call us on 0451 359 356 or use our online booking service here!
We are located at 1/451B Fairfield Rd in Yeronga.