Ultimate Guide to Teeth Whitening in Yeronga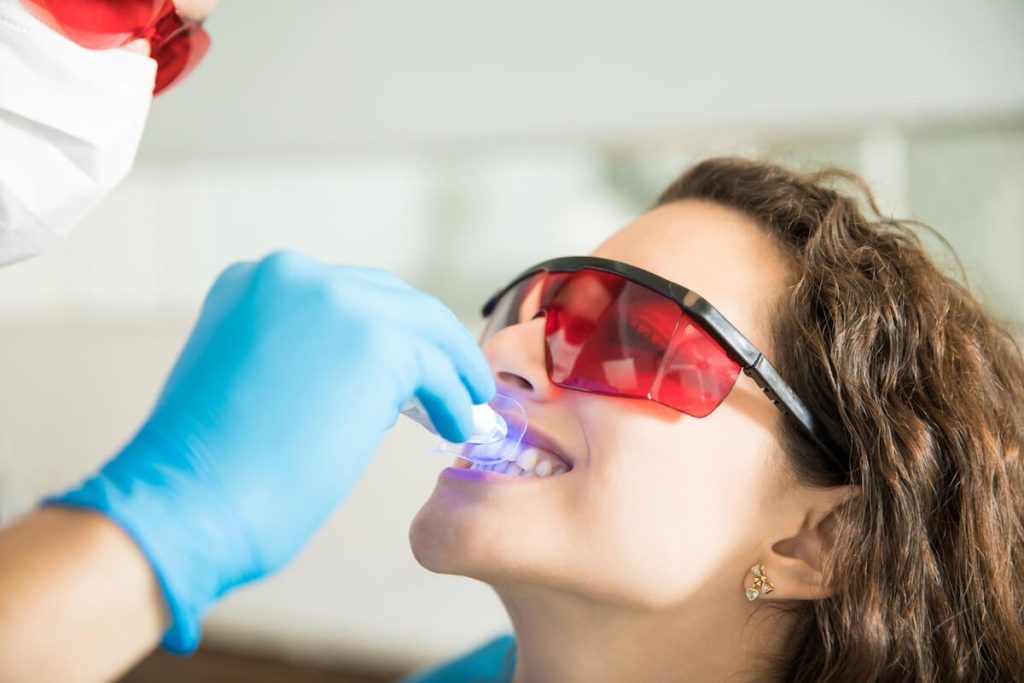 Thinking about teeth whitening for a brighter smile?
Everyone wants to have a high-wattage smile, one that shines as bright as the stars.
Unfortunately, not everyone is fortunate enough to have one from birth.
Whether due to extrinsic or intrinsic factors, teeth can display a disappointing shade.
At Ria Family Dental, we can help. A brighter smile is within your reach with our teeth-whitening options. Get your brighter smile today!
Common Causes Of Tooth Discolouration
Your teeth are exposed to different things that can discolour them. Keeping your teeth bright and glowing can be very challenging.
The first step towards better-looking teeth is understanding the common culprits of staining and darkening.
The following are the common causes of tooth discolouration:
Coffee
Wine
Citrus fruits
Soda
Tea
Tooth trauma
Too much fluoride
Smoking
Age
If attended to immediately, most causes of tooth discolouration can be reversed with proper oral hygiene and regular dental scale and cleans.
If neglected, the stains can harden, requiring teeth whitening to remove. The good news is that Ria Family Dental is experienced and skilful at whitening your teeth!
Teeth whitening is a non-invasive, routine, and effective dental treatment that improves the shade of your teeth to increase the beauty of your smile. Teeth whitening has a number of benefits.
In fact, a recent study from the universities of Leeds and Central Lancashire confirms that a brighter smile makes a person more attractive.
Other benefits include:
Plaque buildup is removed
Persistent stains are removed
Bad breath can be reduced
Instant and predictable outcome
Increased self-esteem
Are You A Good Candidate for Teeth Whitening?
Healthy teeth without fillings or other restorations and healthy gums make the best candidates for professional teeth whitening.
Patients whose teeth are yellowed are more likely to respond to treatment.
Teeth Whitening Treatments Aren't Right For Everyone
Teeth whitening treatment is not safe or effective for anyone.
Here are some conditions that might rule it out:
Pregnancy or lactation
Restorations, including fillings, implants, crowns, and bridges
Children below 16 years of age
Patients with gum disease, decay, cavities, or exposed tooth roots
People with allergies to bleaching/whitening agents
Sensitive teeth
Teeth Whitening Options At Ria Family Dental
Our patients at Ria Family Dental can access both in-office and take-home teeth whitening treatments.
In-office teeth whitening
The most popular cosmetic dentistry procedure done nowadays is in-office teeth whitening. When teeth are whitened in-office, the process is done under well-watched conditions that provide the safe, controlled, and painless use of a relatively high concentration of bleaching gel, producing effects that are seen right away.
Advantages
Fast results
Safest bleaching technique
Gum and tooth sensitivity is decreased
Disadvantages
Less economical than take-home alternatives.
Results depend on things including age, heredity, and the type of staining
In-office whitening is not a permanent solution. Many dentists recommend a home maintenance follow-up program to be practised at home.
Take-home tooth whitening
Professional at-home teeth whitening kits are obtained from your dentist, and they contain a high concentration of either hydrogen peroxide or carbamide peroxide.
Custom-fitted dental trays are created to hold the whitening solution on the surface of the tooth and reduce exposure to the other parts of the mouth and/or digestion.
There are several steps in obtaining and using in-home teeth whitening kit:
Impressions are taken of both your upper and lower teeth. The impressions are transported to a facility where the whitening agent's trays are created. This takes approximately one to two weeks.
When the trays are constructed, you will be shown how to properly apply and dispense the solution, as well as other instructions required for good results.
Brush, floss, and rinse well before beginning the at-home treatment.
The technique itself takes around an hour per day for two weeks, and some brands can be worn overnight. You must avoid eating, drinking, or smoking while wearing the trays and continue to do so for 30 minutes afterwards.
After 2 weeks of treatment, a follow-up appointment is made to assess your results and see if your teeth are becoming the brighter shade you seek.
Additional whitening agents can be used for touch-ups if deemed necessary.
Achieving Whiter Teeth in Yeronga
Enjoy life's best moments better with brighter teeth and a stunning smile. Talk to your Ria Family Dental dentist today to experience our teeth whitening options. There's nothing more we want than to give you the smile you deserve.
The Ria Family Dental Advantage
When it comes to delivering top-notch dental care in a welcoming and friendly setting for you and your family, Ria Family Dental stands out as the best choice.
From routine dental procedures like checkups to complicated dental needs, the Ria Family Dental team has you covered!
Call 0451 359 356 or book an appointment online.
Visit us at 451 Fairfield Rd in Yeronga.