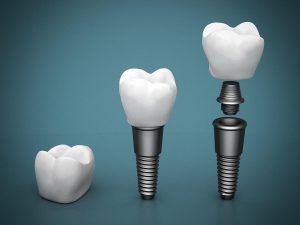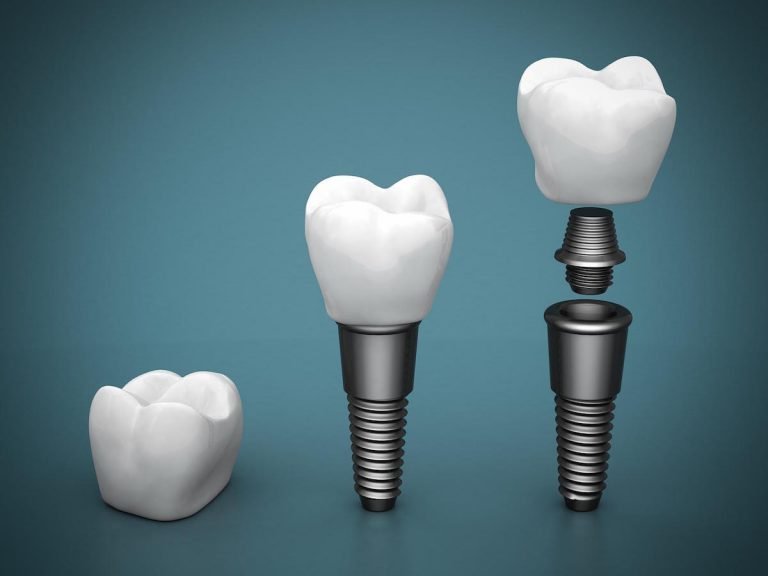 Do you want to replace a missing tooth in a way that looks and feels natural?
Dental implants can replace missing teeth, and they have a success rate of over 95%!
At Ria Family Dental, we offer multiple tooth-replacement strategies, but implants are among the best.
Why replace missing teeth?
A missing tooth is a bit more than just an aesthetic problem for your smile.
It can also cause serious issues such as:
Difficulty biting
Increased chance of plaque, tartar, decay, and gum disease
Position shifts of remaining teeth
Improper distribution of pressure while eating
Bone loss and lack of cheek support, giving an aged and hollow look to your face
Dental Implants, The Ultimate Answer
Dental implants are often the best solution for replacing either a single missing tooth or a larger number of teeth.
There are two primary approaches, depending on how many teeth are missing.
Single Dental Implants replace a single lost tooth. A single implant fills the gap in your smile without damaging any of the nearby teeth.
Full Mouth Dental Implants are a more comfortable and natural feeling and looking alternative to complete dentures.
Implants are placed where each of your original teeth was, and are custom-fit to the shape of your mouth.
Depending on how many teeth you need to be replaced, an implant-supported bridge may also be your ideal option.
Advantages of Dental Implants
Improved appearance. Dental implants feel and look like natural teeth. Because they fuse with the jawbone, they become permanent and prevent bone loss.
Improved speech. Unlike dentures, dental implants allow you to talk without the worry that teeth might slip or you might lisp.
Improved comfort and convenience. Because they become part of the jaw, implants remove the discomfort and inconvenience of removable dentures.
Easier eating. Dental implants function like natural teeth, which means you can eat your favourite foods confidently and without discomfort.
Improved confidence. By restoring your smile, bite, and speech patterns implants can help you feel more confident in yourself.
Improved oral health. Dental implants don't require reducing (grinding down) adjacent teeth, as a tooth-supported bridges do.
Because adjacent teeth are not damaged to support implants, more of your natural teeth are left intact.
This improves long-term oral health and allows easier access between teeth, improving oral hygiene.
Durability. Dental implants are incredibly durable. With proper care, many dental implants last a lifetime.
What are Dental Implants?
Dental implants are metal posts (usually titanium) surgically placed into the jaw to function as a tooth root.
The finished dental implant is comprised of three parts:
Dental implant – A metal post inserted into the jawbone as an artificial root.
Abutment – Connects the implant to the replacement tooth.
Dental crown – The actual tooth restoration.
The Dental Implant Process
Dental implants require a healthy jaw. Some patients may need a bone graft before implants can be considered.
A local anaesthetic is used to numb the implant site area. Conscious or partial sedation may also be available for complicated cases or anxious patients.
After numbing has taken place, the implant site is prepared, and the gums are opened
with a surgical cut.
A series of drills will be used to create a hole in the jawbone to receive the implant. During drilling, the dentist flushes the area with saline solution or water to prevent overheating.
When the hole is large enough, the implant is placed. This can be a bit uncomfortable, but the Ria Family Dental team is experts at minimising discomfort.
Once the implant is placed, the site is sealed using stitches and an implant cap.
After Care
The stitches remain in place for a week to 10 days, after which they will be removed.
The implant is allowed 3 to 6 months for osseointegration (bonding between the metal post and the jaw) before the abutment and crown are attached.
After the implant site has healed and is stable, the remainder of the restoration can be put in place.
The implant cap is taken off and replaced with an abutment and dental prosthesis (crown) on top.
After dental implant surgery, some patients report that when the anaesthetic wears off, there is a dull ache in the jaw that usually subsides within one week.
Once the dental implant is complete, patients can treat the prosthetic just as they would a normal tooth and the prosthetic looks and feels just like natural teeth.
But once the procedure is done, you have a permanent, fully functional replacement for your missing tooth!
Join the Ria Dental Family!
At Ria Family Dental, we offer comprehensive care for your short and long-term dental care needs.
We create an honest, judgment-free environment in which we practice comfortable, convenient, caring, and conservative care that maximises your smile and oral health!
Our offices are at 451 Fairfield Rd, with Yeronga station and bus stops nearby, as well as convenient store-front parking.
For your convenience, we offer early evening hours on most weeknights.
Yeronga dentist also serves the local communities in Yeerongpilly, Annerley, Tarragindi, Rocklea, Fairfield, Tennyson, Graceville, Chelmer and Moorooka.
Dental Implants Promotions
FREE Consultation for Dental Implants
Prices start from $3,999 from start to finish including crown
To claim your FREE Dental Implants Consultation, give us a call on 0451 359 356 or use our online booking service here!
We are located at 1/451B Fairfield Rd in Yeronga.