Straightening Your Teeth with Invisalign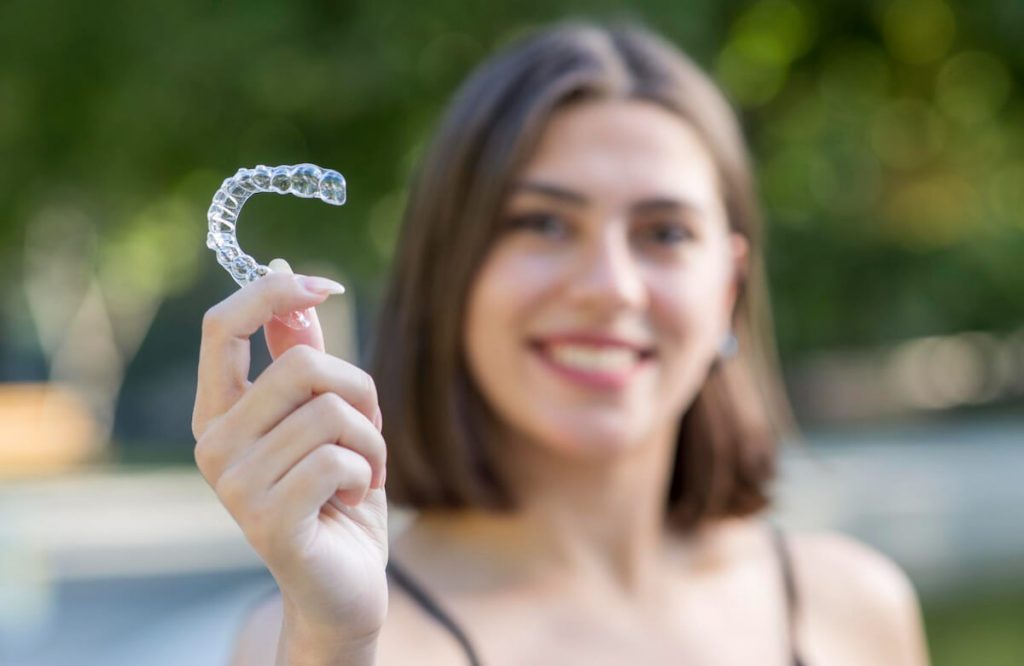 Many people may find it difficult to believe, but metal braces weren't always the only option for straightening teeth.
A fascinating fact is that utilising an oral device to enhance your smile is not a recent invention but a practice dating back to ancient times.
Although using dental braces to straighten teeth is not new, Invisalign transparent braces are the latest and most popular alternative to metal braces.
Why are Dental Braces Necessary for Teeth Straightening?
The primary purpose of braces is to move your teeth to improve your bite. This implies that each tooth may need work to realign and straighten it with your other teeth.
The following are some advantages of getting braces fitted:
You have a flawless bite
It enhances dental health
It prevents other teeth from breaking or chipping.
Delays the beginning of gum disease and oral infections since your teeth are easier to maintain.
It can help to avoid headaches brought on by a misaligned jaw
Can prevent and reduce teeth grinding, which is frequently brought on by crooked teeth.
Your Yeronga dentist will advise using transparent braces to cure all these issues and straighten your teeth because braces can quickly fix them. These flaws can cause additional dental problems that can be easily resolved with braces.
What are Invisalign braces?
Modern alternatives to traditional dental braces include Invisalign, which uses a series of personalised aligners to move teeth into the desired position gradually.
Other braces function precisely the same way in this situation, but there is a significant distinction. The plastic trays used by the Invisalign system fit snugly overtop of your teeth and are virtually invisible to the naked eye.
This contemporary plastic clear braces system has gained popularity among people of all ages, not just the young because there are no wires, bands, or brackets to tighten or adjust.
It seems that now that there is an alternative to metal braces, adults are more likely to straighten their teeth.
It is simple to have straighter teeth and a more attractive smile thanks to the plastic trays, which are formed to fit your teeth and resemble mouthguards.
How Long Does It Take to Have Straighter Teeth?
The plastic aligner trays are simple to put on and take off, and you usually switch them out every few weeks until your teeth have moved into the proper position.
However, this again relies on the degree of the overbite or the amount of realignment required.
The total amount of time will differ from person to person, but this approach achieves results more quickly than conventional metal or ceramic braces.
Speak with your dentist at Ria Family Dental to learn if Invisalign can be used to straighten your teeth. They will be pleased to go over the various alternatives you have with you.
Advantages of Invisalign® Clear Braces
The Invisalign system doesn't resemble braces is its primary benefit:
They are tactful
Non-intrusive
Situates well with your lifestyle
Inspire confidence
Easy to keep up good oral hygiene.
It doesn't itch, scrape, or irritate your cheeks or gums way outdated metal braces can
Additionally, most individuals you interact with won't know you have braces. They don't draw attention like metal braces do, which is why. You can therefore straighten your teeth by making simply small lifestyle changes.
Additionally, this plastic alignment system will boost your confidence and stop you from avoiding social situations out of worry about the attention traditional braces tend to draw if you are self-conscious about your smile and how you appear with them.
Smile at Ria Family Dental
Why not consider Invisalign teeth straightening today?
Ria Family Dental is your trusted Family dentist in Yeronga, providing advanced dentistry and same-day emergency care. Call us on 0451 359 356 today!
Get our Clear aligners now starting from $5,000 only.
Book your appointment online now or visit us at 451 Fairfield Rd in Yeronga.