Dental Guide: Does Invisalign Work?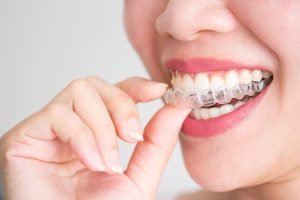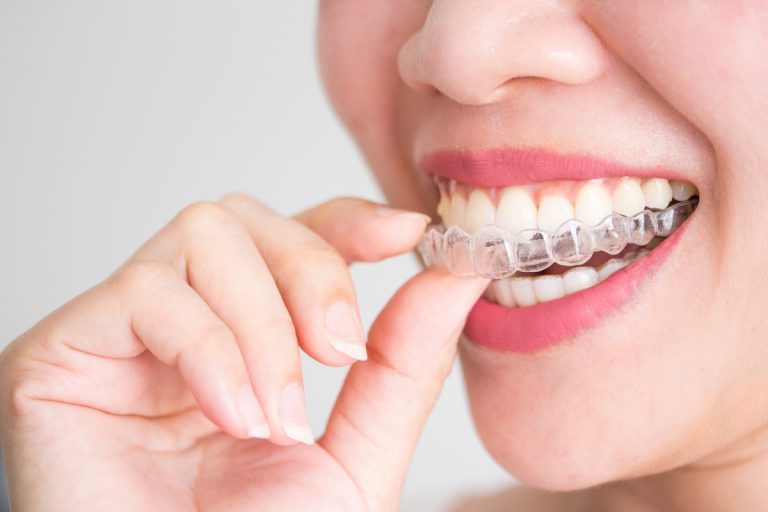 Are you considering getting teeth straightened?
Do you, or a loved one or friend have snaggled, crooked, mismatched teeth, or an upper and lower bite that does not meet?
If so, Invisalign might be an answer – it is one of the most successful dental products/services ever launched.
Over half a million patients have been treated with Invisalign, and the number grows daily.
At Ria Family Dental, we've had outstanding results with Invisalign. In appropriate cases, it works and is surprisingly quick and thorough.
What is Invisalign?
Invisalign uses clear (nearly undetectable), temporary aligners that cover your teeth to straighten them. Each aligner is used for about two weeks, with each aligner straightening your teeth further.
Aligners are worn up to 23 hours daily for two weeks at a time, and then the next set is worn similarly.
But some of our patients have questions about how well Invisalign works because it can seem almost too good to be true.
Benefits of Invisalign
There are many options in teeth straightening but Invisalign is the only clear option that doesn't use brackets and wires.
Invisalign lets you work, eat, and participate in social affairs worry free! All while giving you a perfect smile. Invisalign has many benefits for its wearer, such as comfort and flexibility.
Take a look at some of these benefits listed below:
Fix bite problems (malocclusion)
Straighten crooked teeth
Nearly invisible offering more comfort
Removable
Better and easier cleaning
Do not need constant tightening and adjustment
Lesser food to avoid
Invisalign offers more uses than you may have realised. They don't just transform smiles – they make the process easier and more painless.
It's precisely what you need when you're talking about orthodontics with your teenager.
Does it work?
When used correctly and in the proper cases, Invisalign works very well.
Dental issues it can help with include:
Underbite
Overbite
Crossbite
Misaligned Teeth
Gaps in Teeth
Other Issues
Invisalign can be used for most of the minor, moderate, and even some major issues traditional braces can be used for.
Crowding, gaps, crooked teeth, and bite issues can be corrected with Invisalign, often just as well as these problems can be treated with wire and brackets.
Some other aspects of Invisalign also really 'work':
Invisalign is nearly undetectable, so if you are concerned with the clunky look of traditional braces, Invisalign might be the way to go. This can be particularly important for teenagers, with all the social pressure they endure.
Using Invisalign makes it much easier to maintain your oral health. Because your aligners come out for cleaning, it is easier to reach your teeth and gums, and there are fewer hiding places for food scraps and bacteria. The aligners themselves can be cleaned while outside of the mouth.
Invisalign is safer. Traditional metal braces contain protruding bits of metal and wire that can wound and scratch the insides of the gums and mouth. Clear braces are comfortable and smooth. They have no sharp edges or protruding edges or bits. Traditional metal braces can affect demineralisation and decaying teeth. Traditional metal braces use substantial force to straighten the teeth. These issues don't exist with Invisalign. Overall, clear braces reduce the damage usually caused by wearing braces, including gum disease and cavities.
Because aligners come out, there is another advantage – you can remove aligners to eat, play sports, or play some musical instruments.
In some cases, Invisalign can dramatically decrease treatment times. Depending on the situation, patients using metal braces can undergo treatment for up to five years. Invisalign can take from only one year to a year and a half to work its magic and straighten your teeth. The time frame will be discussed during your consultation.
So, Invisalign works in a wide range of cases. And if you get Invisalign, you can contribute to how well it works by taking your treatment seriously.
How you can help your Invisalign work?
If, after consultation, Invisalign is your choice, the main thing you have to do is pay attention.
While braces go in the mouth and can then don't need to be worried about from the perspective of care, Invisalign requires some attention.
Because the aligners are removable, it is crucial to remember to put them on, keep them on, and replace them on your teeth if you take them out for cleaning, eating, or other reasons.
Invisalign works best when it is in place all day. Patients who take their aligners out not only have slower results; they may end up with no results at all.
If you or your child will have difficulty keeping the aligners on your teeth, metal braces are a better choice, as they cannot be removed and they work on your teeth all day, every day, month in and month out.
Ria Family Dental understands first-hand the functional and psychological benefits of having a proper bite and aesthetically pleasing smile.
We listen carefully to patient concerns and deliver high-quality treatment options designed to meet your individual needs. If you have questions or are considering orthodontic treatment, consider Invisalign at Ria!
More about Invisalign at Ria Family Dental
Join the Ria Dental Family!
Ria Family Dental in Yeronga offers comprehensive care for your short and long-term dental care needs.
We provide an honest, judgment-free environment in which we practice convenient, comfortable, and conservative care designed to maximise your oral health and smile!
Yeronga dentist also serves the local communities in Yeerongpilly, Annerley, Tarragindi, Rocklea, Fairfield, Tennyson, Graceville, Chelmer and Moorooka.
Our dental clinic is at 451 Fairfield Rd. Yeronga Sation and bus stops are nearby, and we offer convenient storefront parking. For your convenience, we offer early evening hours on most weeknights.
Straighter Teeth With Invisalign At Ria Family Dental
Ria Family Dental, where gorgeous and charming smiles are achieved with a twist. Get your straight teeth with Invisalign today!
Invisalign & Clear Correct Promotions
Clear aligners starting from $5,000
Call us on 0451 359 356 or book your appointment online. We are located at 451 Fairfield Rd in Yeronga.