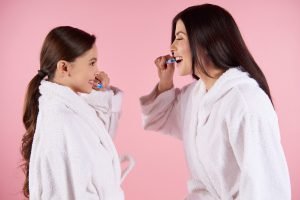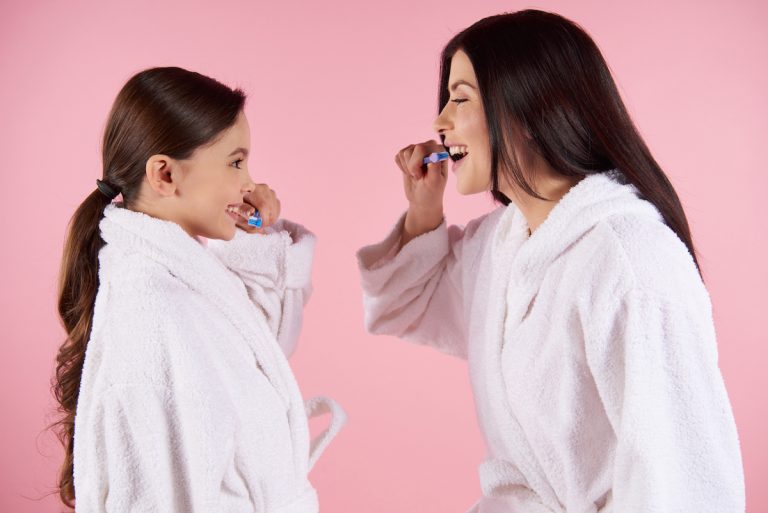 Once again, as August comes upon us, Australia recognises Dental Health Week, a week sponsored by the Australian Dental Association.
Each year Dental Health Week chooses a dental topic in an attempt to bring it into the public light, and increase public awareness of the need for oral hygiene and dental health.
In previous years the topics have included oral hygiene, diet, sugar, sports, general oral health, and "watching your mouth".
This year, the week runs from August 5th to August 11th, and the topic is, "How's Your Oral Health Tracking?"
The question is meant to have two meanings. First, are you on track – meaning are you doing what you should?
Second, how do you know you're on track – meaning, how are you keeping tabs on your daily and annual oral health?
At Ria Family Dental, we think these are great questions to ask, and we also recognise that for some of our patients, tracking is more complicated than for others.
Notably, our younger and older patients may have some trouble tracking their oral hygiene.
We live in busy times, but it is often our patients with the least busy schedules who have difficulty keeping their dental care 'on track'.
Let's take a look at specific issues these demographics face, and what can be done to help 'track' these patients.
Dental Health Week and Children
Children have no fixed habits, and it is up to us as adults to teach them what they should do, including how to maintain their oral health.
In this context, Dental Health Week is a great way to introduce children to the idea of dental health.
During this week, take a look on the web and see if any dental-themed events are happening in your area.
Or go to the ADA's Dental Health Week website and download entertaining, printable posters that have been designed to instruct children.
Topics include dental health in general, and two posters focused on the dangers of sugary and acidic drinks like soda pop.
This is particularly important in that 73% of young Australians (14-18 years) consume too much sugar.
To further help parents teach good oral hygiene habits to their children, the website also includes helpful hints for parents, including:
Begin oral hygiene early. Brushing can begin on the baby's gums. Flossing should start as soon as two teeth are present
Spit out toothpaste, do not rinse out the mouth with water.
Don't use too much toothpaste. A small 'pea-sized' amount is all you need.
Make brushing fun! Use songs or smartphones to liven brushing up.
Visit the dentist early as soon as teeth show up or by the first birthday.
Use positive reinforcement during dental appointments.
To demonstrate progress to children, who often need visible proof of success, track their progress on a chart, a calendar, or with stars on a wall.
When your children hit important goals or milestones, reward them with something tangible, but something that is also good for them!
Dental Health Week and Seniors
As we age, our bodies become less effective at battling bacteria, germs, infections, etc., and this means that oral health problems that were once minor can quickly become something more.
Because our bodies become more vulnerable as we age, oral problems that were once minor can quickly blow up into something much more.
It can be easy for a senior to lose control of their oral hygiene and dental health, and this can lead to catastrophic consequences.
Here are some things that must be tracked:
Darkened teeth
Dry mouth
Diminished sense of taste
Root decay
Gum disease
Tooth loss
Uneven jawbone/teeth
Oral cancer
Underlying these specific threats are two general issues that come along with aging, reduced mobility/flexibility and decreased memory.
Here is a more thorough list:
Decreased coordination and manual dexterity
Reduced income leading to fewer dental visits
Reduced transportation options leading to fewer dental visits
Decreased memory makes good oral habits harder to maintain.
Because of these influences, the importance of strong tracking is even more critical; to be sure that everything is under control.
Seniors must keep close track of their dental habits, and if they cannot do so, their loved ones or carers should do it for them.
Take advantage of Dental Health Week to be sure that all your oral hygiene habits are on track.
Join the Ria Dental Family in Yeronga!
At Ria Family Dental, we provide comprehensive care addressing both your short and long-term dental care needs.
We promise to give an honest, judgment-free environment in which we practice convenient, comfortable, and conservative care designed to maximise your smile and oral health!
We are located at 1/451B Fairfield Rd, with Yeronga station and bus stops nearby, as well as convenient storefront parking.
For the convenience of our patients, we offer early evening hours on most weeknights.
Yeronga dentist also serving local communities in Yeerongpilly, Annerley, Tarragindi, Rocklea, Fairfield, Tennyson, Graceville, Chelmer and Moorooka.
Child Dental Benefits Schedule
Bulk Bill for children who are eligible for MEDICARE CHILD DENTAL BENEFIT SCHEDULE
Up to $1,000 worth of dental treatments over two years
Call us on 0451 359 356 or use our online booking service here!
We are located at 1/451B Fairfield Rd in Yeronga.