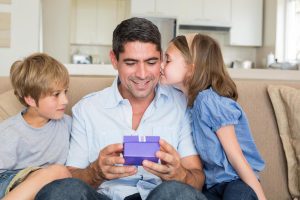 Sure, a coffee mug is a traditional gift on Father's Day, but isn't it a bit trite? And, coffee can stain your teeth!
At Ria Family Dental, we know that your Dad will love any gift you give, but we also know that you would probably like to give a unique, unexpected, and appropriate gift.
We all know that the Father's Day coffee cup, BBQ gear, or ties are bad ideas, but what are the alternatives?
If you're stumped, Ria Family Dental is here to help!
Why not give your Dad a happy surprise with a gift that helps him enjoy optimal dental health and a stunning smile?
Here are some suggestions for unexpected gifts that will also help your Dad keep tiptop oral and general health.
#1 Dental health, anywhere!
If your Dad is a road-warrior, for work or for play, he would probably appreciate a travelling dental emergency kit. This kit can be useful on a camping or business trip.
You can find emergency travel kits online, in local pharmacies, or you can create your own kit based on the condition of your Dad's oral health.
If you're going to put a kit together yourself, Ria Family Dental has some suggestions.
The phone number for Ria Family Dental 0451 359 356.
Gauze. For packing and absorption.
Saline solution. For cleaning and rinsing.
Ice packs. For pain and swelling reduction.
Dental wax. To cover chipped teeth and temporarily replace lost tooth fillings.
Save-a-Tooth system. Extends the period you have to get a knocked-out tooth to the dentist for reimplantation.
Topical pain reliever. An OTC product or clove oil.
OTC pain medication. Be certain to follow instructions and read label warnings.
If you have any questions about what to put into such a kit, or what to do in the case of a dental emergency, please contact us at Ria Family Dental – Our expertise is in same-day treatment of dental emergencies!
#2 The athletic Dad
It's good if your Dad plays sports or engages in athletics, but it can be surprisingly dangerous for his teeth.
Any sport or athletic endeavour with contact means the chance of a lost tooth, concussion, or broken jaw.
If your Dad is sporty, why not get him a custom mouthguard?
At Ria Family Dental, we can create a customised mouthguard that provides your Dad with the most protection. Whatever you do, avoid mass-produced OTC mouthguards, which are far less effective and easy to use.
#3 Consider Dad's appearance
Is there anything in Dad's smile that he might want spruced up to improve his work or social life?
At Ria Family Dental, we offer a variety of helpful cosmetic treatments.
And if you can't afford an entire treatment, buy your Dad a gift card to help him pay. His smile will thank you for years to come.
Teeth whitening. The natural aging process, mixed with some of Dad's favourite things, like coffee or wine, can make his teeth discolour. Teeth whitening can make his smile several shades brighter in just one visit to Ria Family Dental. Or, Dad can use professional-strength whitening gel and custom-made trays at home, with the supervision of his Ria Family Dental dentist.
Tooth bonding. Tooth bonding can be a great treatment to hide hiding, including discolouration, chips, uneven edges, and gaps between teeth.
Porcelain veneers. These thin "shells" of toothlike porcelain cover smile imperfections on the front of teeth. They resist stains and last longer than bonding.
If Dad has damaged or missing teeth, he might be interested in restorative dentistry procedures. Our dentists can repair issues like cracks or even breaks. They can replace missing teeth with a dental bridge or a dental implant.
#4 Alternative oral hygiene tools
When we think of oral hygiene, we might think of dental floss and a bright plastic brush, but there are other options for your Dad.
If your Dad has manual dexterity issues or doesn't like floss, the Waterpik is a great alternative to dental floss, particularly with the accompaniment of interdental brushes.
The Waterpik uses pulses of water to clean between the teeth, and interdental brushes allow one-hand 'flossing'.
If Dad is eco-friendly, consider bioplastic or bamboo toothbrushes. Both, along with their packaging, are built to biodegrade, and bamboo toothbrushes can also freshen breath and fight bacteria.
Oral hygiene is a routine, but it shouldn't be boring. Make your Dad a DIY toothbrush or mouthwash holder that reflects their personality.
Use materials from products they love, like bottles of their favourite drinks, or tins of their favourite foods.
Join the Ria Dental Family!
At Ria Family Dental in Yeronga, we offer comprehensive care for your short and long-term dental needs.
We provide an honest, judgment-free environment in which we practice convenient, comfortable, and conservative care designed to maximise your smile and oral health!
Our offices are at 1/451B Fairfield Rd, with Yeronga station and bus stops nearby, as well as convenient storefront parking. For maximum convenience, we offer early evening hours on most weeknights.
Yeronga dentist also serves the local communities in Yeerongpilly, Annerley, Tarragindi, Rocklea, Fairfield, Tennyson, Graceville, Chelmer and Moorooka.
Our Teeth Whitening Promotions
Take-home kit consist of 3 tubes of zoom bleaching gel, upper and lower treys and tube of tooth mousse for only $250
To book your Dad an appointment, call us on 0451 359 356 or use our online booking service here!
We are located at 1/451B Fairfield Rd in Yeronga.